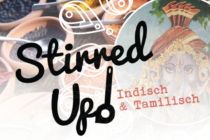 Stirred Up! – Tasting and experiencing cultural diversity
Get to know cool people, learn new and fascinating things about a foreign country together and eat delicious dishes – that's the idea of Stirred Up!
At every event, a cooking enthusiast from the respective country stands behind the stove, preparing the best delicacies of his home country for you.
Meanwhile, we have an exciting supporting programme that will make your cooking time fly by: Fun games and nice conversations with the other participants await you.
In a cooperation of Stirred Up, Amnesty International Bochum and a German-Tamilian student initiative, we present a "Stirred Up" evening about India and Sri Lanka.